Tuesday, April 9, 2013, 12:30pm to ??
Museum of Broadcast Technology's Booth L7

The Quad Videotape Group will assemble at the Museum of Broadcast Technology's Booth L7  in the lobby between the North and Central halls.

A working Ampex VR-3000 portable transverse scan Videotape® recorder is anticipated to be in operation at the MBT booth.

A nearby lunch destination will be selected at that time, or we may bring food over and watch the reels turn and RF be converted to baseband. Or vice-versa.

Perhaps there'll be a camera attached to the VR-3000 and we'll be the latest group of people to be recorded on Quad?
Look for the REEL on the table.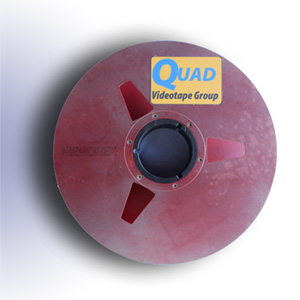 Folks with experience or interest in
Transferring or Archiving Quad Videotape,
Maintenance and Design of Quad Machines,
Linear Editing and Telecine
are encouraged attend and tell their friends and colleagues
You can express your interest by clicking here: QVTG NAB Lunch 2013-RSVP
—0—
Quad Videotape Group NAB Sunday Dinner, April 7, 2013?
If you're in Las Vegas on Sunday night, 4/7, 2012, several of us are planning to dine somewhere.
E-mail if you'd like to join us.
—0—
Here are photos of recent Quad Videotape Group events
NAB 2012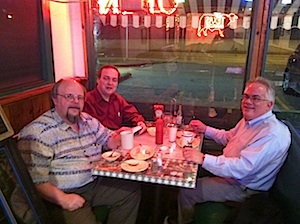 Impromtu Dinner-AMIA, Austin, TX, 2011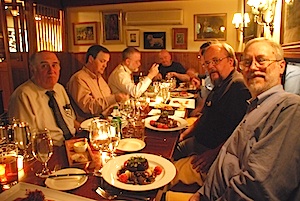 Annual Dinner at AMIA, Philadelphia, Nov., 2010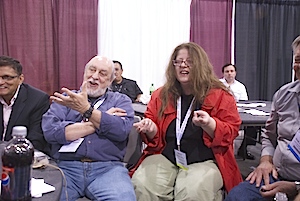 NAB 2010
---
Quad Videotape Group
Second Annual Informal Quad-Telecine-Editor lunch at NAB 2009
Click here to see pictures of this event and others
Ted Langdell
flashscan8.us
Cell: (530) 301-2931
Secretary for the QuadVideotapeGroup.com:
Preserving Tape, Equipment and the Knowledge to use them, in conjunction with the Library of Congress
ted@quadvideotapegroup.com
Quad History Replay:
52 years ago—1960:
Ampex introduces the VR-1001A Upright VTR, a VR-1000 with vertical transport and controls. Ampex also introdced Intersync and AMTEC.
42 years ago—1970:
Field testing of RCA's TCR-100 Quad Cart Machine began at then-new independent UHF WDCA-TV, Washington, DC using the pre-production model shown at NAB, 1970.
First shown as a prototype at the 1969 NAB, the TCR-100 cart recorder/player was used for short-length elements like commercials, promos and news stories.
Ampex made three significant product introductions during 1970:
The first was in late January, when it announced the ADR-150 high-speed Quad Videotape Duplicating System, recently discussed on the QuadList. The equipment could crank out five copies of a one-hour program in about ten minutes. The system used a "mirror image" tape made with high coercivity tape on
a specially modified AVR-1 Quad recorder.
The AVR-1 was formally introduced at NAB 1970. This machine could go from stop to clean picture in five frames, used vacuum columns to smooth tape handling and increase responsiveness, automatically selected the tape format and television standard, and could play a tape that didn't have a control track. Among other things.
The AVR-1 It is widely regarded as the pinnacle of Quad recorder evolution.
Product three was the ACR-25 Quad cartridge recorder, which used much technology from the AVR-1. It could handle longer program elements than its RCA competitor, and could run separate 10-second carts back to back.

It was a mainstay of CBS operations, seen here in photos on the CBS Retirees website courtesy of
QuadList member Dennis Degan.
MTV used a pair of "modified for stereo" ACR-25's to play its music videos and other short program elements.

---
QuadPEOPLE 1970
Ampex Engineer (and later VP) Charles Anderson received the first Annual Alexander M. Poniatoff Award (cash and a gold medal) for proposing in late 1954 and creating in January, 1955, the original FM video recording system used in development of the Quad video recorder.
The FM method is still widely used today for recording analog and digital signals to magnetic media of many kinds.
Anderson also designed the console and internal electronics for the Ampex Mark IV Quad machine that first demonstrated Videotape® recording to a stunned group of CBS affiliate brass.
Anderson worked for Ampex for many years and retired from the company.
HIs connection to video recording continued at KNPB, Reno.
Anderson lives in the central California foothills east of Stockton.
---
Another Ampex engineer named Charles received the 1970 Institute of Electrical and Electronics Engineers (IEEE) Vladimir Zworykin Television Prize, named for the famous RCA engineer.
Ampex Senior Engineer Charles Coleman was awarded the honor "for technical achevements in Video Recording."
Coleman also recieved another award in 1970 with an RCA "name": The David Sarnoff Medal
from the Society of Motion Picture and Televison Engineers (SMPTE).
This honor was "For many original inventions, in particular for time domain electronic signal correction and for the conception and development of high band color videotape recording."
While at CBS-owned WBBM-TV, Chicago, Coleman invented the ColTec, which corrected geometric distortions in
VR-1000 Quad recordings. Ampex bought the rights and hired Coleman, renaming the device the AMTEC.
Coleman, assisted by Pete Jensen developed Colortec, a color timing error corrector that hit the market in 1961.
Coleman later helped develop High-Band FM recording for videotape as implemented in the Ampex VR-2000, and according to "Magnetic Recording: The First 100 Years" invented the Velocity Compensator (Velcomp) that
allowed 11 generations of recording by 1966.
---
Read about user's experiences with the ACR-25, TCR-100 and the Ampex digital ACR-225
on the QuadList
Click here to check out those topics and more in the archives.
---
Inside the Quad Videotape Group website
we have information the RCA installations at NBC Burbank, NBC, New York City and
at WBTV, Charlotte, North Carolina.
Click here or on the Quad History index to look back at RCA's first installed test models, and the production units that came after.
If you use or used to use or maintain an RCA TRT-1, 1A, 1B or 1C
click here to join the QuadList and tell us about it.
Check out the Restoration of the oldest known surviving color Quad recording on the Eisenhower Tape Restoration page
Share your Quad stories, ask questions or offer solutions via the QuadList.